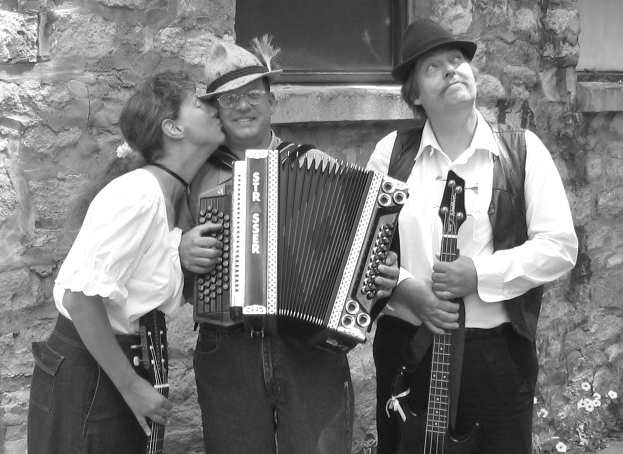 Johanna "Hanna" Schröder, Karl Schröder and Chuck Herdrich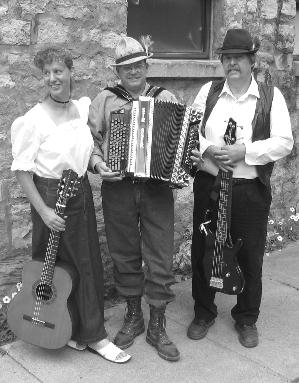 Hanna, Karl and Chuck
Many different musicians often join our group on stage and one of our favorites is Chuck Herdrich.

Born 8 August, 1950 in Keokuk, Iowa, Chuck was raised in a musical family. His father played guitar and sang on the radio. Something of a child prodigy, Chuck learned how to play the banjo by watching Roy Clark on the Hee Haw television show long before the invention of VCRs and a rewind button.

Chuck started performing professionally well before his teen years with his mother chauffeuring him from gig-to-gig in an old Rambler station wagon.

Chuck is a fantastic and awe-inspiring musician who is equally proficient on guitar, banjo, mandolin, bass guitar and even the drums. If all that isn't enough, he has been the lead vocalist with many bands over the years.

Matching his musical ability is his sense of humor on stage. Joshing and joking with the audience is a real signature of all his performances. He never fails to lift the spirits of his audience and has that special quality that many refer to as "charisma".

Chuck also keeps busy running his own recording studio, Brick Room Studio in Princeton, Missouri, and owns and operates the local music store where he specializes in instrument repair and guitar sales. If there happens to be any free time left, he helps his wife, Donna, run the local license office.

Chuck has played both small and large venues all over the United States and has performed in Bavaria, Germany as well.

It is always a pleasure to have Chuck play with us and we know you'll like him too if you ever get the chance to hear him with Steirkraft or any other group... he's even a great solo act!